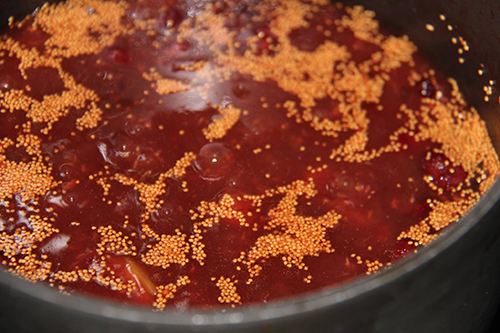 Finally! A return to cooking and new recipes! – Jonathan (The Wannabe Gourmet)
1 1/2 cups of dried cranberries (divided)
2 cups water
2 cinnamon sticks
4 slices naval orange (including rind)
4 slices lemon (deseeded but including rind)
4 tbsp brown sugar
4 tbsp white sugar
2 tsp vanilla extract
1/2 cup orange juice
1 tsp ground cardamom
1/2 tsp ground cinnamon
14 fresh figs, quartered and pulp scooped from outer rind
Place 1 cup dried cranberries in a saucepot. Cover with 2 cups water, adding cinnamon sticks. Bring to a boil and reduce to a simmer, stirring occasionally for 10 minutes. Add sugars, citrus slices, orange juice and vanilla extract. Return to boil, reduce to simmer for another 10 minutes, stirring occasionally. This will cause the pulp from the orange and lemon to cook away from rind. Remove rinds and cinnamon stick. Allow to cool slightly, then process until almost smooth in a food processor fitted with a chopping blade.
Return to saucepot, add cardamom and ground cinnamon. Add fig pulp and remaining 1/2 cup of dried cranberries. Return to boil, and reduce to simmer and stir occasionally for 5-10 minutes until lightly thickened and dried cranberries have plumped. The figs will have dissolved into the sauce, and the seeds will be floating on the surface. Stir to combine completely and allow to cool slightly (sauce will continue to thicken as it cools).
Use on pork chops, ham steaks, or even grilled chicken. Use leftover sauce within 2 days, or freeze for up to a month.