Home » Breads, Recipe
Cinnamon Rolls Extraordinaire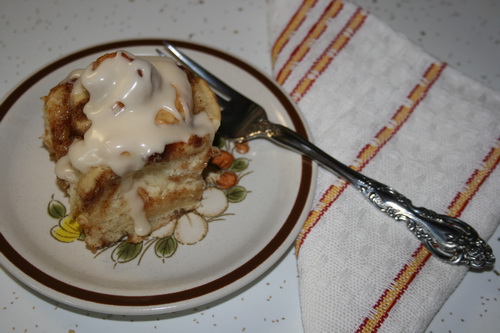 Cinnamon Rolls Extraordinaire
2 pkg. active dry yeast
1 cup warm water, 105 degrees F to 115 degrees F
1/2 cup melted butter or margarine
1/2 cup granulated sugar
3 eggs, lightly beaten
1/2 tsp. salt
4 1/2 cups all-purpose flour
Filling:
1/2 cup soft butter or margarine
2 ½ tbsp cinnamon
1/2 cup granulated sugar
1/2 cup ground almonds or pecans
Frosting:
1 cup powdered sugar
2 to 3 tsp. milk, cream or water
1 tsp. butter
3/4 tsp. vanilla extract
In a large bowl, dissolve the yeast in warm water. Let stand 5 minutes until yeast foams. Stir in the butter, sugar, eggs, salt and half the flour. Beat until smooth.
Stir in all but 1/4 cup of the remaining flour until dough is stiff. Cover. Refrigerate 2 to 24 hours.
Dust remaining flour over the dough and turn out onto a lightly floured board. Roll out to make a 12-by-24-inch square. Spread with 1/2 cup soften butter. Sprinkle with the sugar, cinnamon and nut filling mixture.
Roll up as for jelly roll. Cut into 12 slices. Grease a 13-by-9-inch pan. Place the rolls, cut side down into the pan. (At this point the rolls may be refrigerated again as long as overnight, if needed.)
Let rise in a warm place until nice and puffy (if refrigerated, place over a pan of hot tap water. Cover with a towel.)
Bake at 375 F for 20-30 minutes or until golden.
For the glaze, mix powdered sugar with milk, butter and vanilla extract. Frost rolls with the mixture. Serve warm.
Yields 12 giant rolls