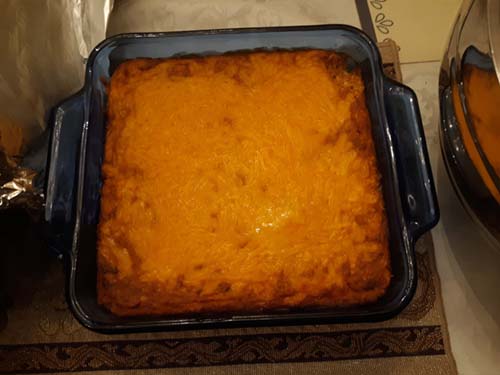 The final in the trinity of dips that are our freind's favourites. It's gluten free, and I've never had to put it in a heated chaffing dish because it seems to go so quickly.
1 1/2 cup sour cream
16 oz. can refried beans
8 oz. cream cheese, softened
1 package taco seasoning
2 cups shredded cheddar cheese, separated
1/4 cup salsa (mild if you don't like heat, hot if you do!)
Preheat oven to 400F.
In a large bowl, mix refried beans, sour cream, cream cheese, and 1 cup of shredded cheddar cheese in a bowl until thoroughly combined. Add taco seasoning and salsa. Mix again until combined.
Transfer to 8″ x 8″ baking dish that has been sprayed with non-stick cooking spray. Top with remaining shredded cheese and bake until browned and bubbly (about 25 minutes). You can top with diced scallions if you like (I didn't because the other two dips I served were topped thusly).
Serve hot with your favourite type of tortilla chips (we enjoy both the Tostitos with a Hint of Jalapeno as well as Tostitos with a Hint of Lime).