Home » Main Course, Recipe
Spinach Artichoke Stuffed Chicken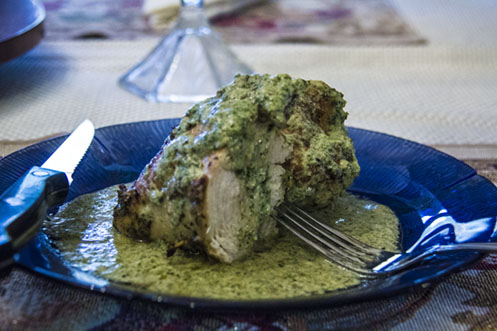 CHICKEN:
4Â boneless, skinless chicken breasts (approximately 2 lbs)
2 tablespoons Italian seasoning
salt and pepper to season
SPINACH ARTICHOKE FILLING:
8Â oz frozen chopped spinach, thawed
8 oz reduced fat cream cheese at room temp
5 oz (I can) artichoke hearts in brine, drained, chopped
1/2 cup shredded mozzarella cheese
1/4 cup finely grated Parmesan cheese
1 tablespoon minced garlic
CREAM SAUCE:
Remaining spinach and artichoke filling
1 cup 2% milk
Instructions
Prepare The Chicken:
Season both sides of each breast with the Italian seasoning, salt and pepper. Cut a slit in the side of the breast about 3/4 quarter of the way through, being careful not to cut all the way.
Make The Filling:
Squeeze any and all excess liquid out of the spinach, discarding liquid. In a medium-sized bowl, combine the spinach, cream cheese, artichokes, mozzarella, Parmesan and garlic; mix well to combine. (You may use a food processor fitted with the blade for this process as well, making sure to not completely puree the filling.)
Place 1-2 tablespoons of the spinach artichoke filling into each chicken breast, sealing with toothpicks or tie with butcher twine.
Heat 1 tablespoon of butter and 1 tablespoon of oil in a cast iron skillet (or non stick pan) over medium-high heat. Add the chicken and fry until lightly golden. Turn and fry on the other side, covering pan with a lid, until cooked through, (this should be about 10 minutes each side. Transfer chicken to a warm plate.
For The Sauce:
Pour milk into the skillet and bring to a simmer. Add in the remaining filling and stir until sauce is thickened.
To serve: Cut chicken breast in half and place on a dinner plate, spooning sauce overtop.