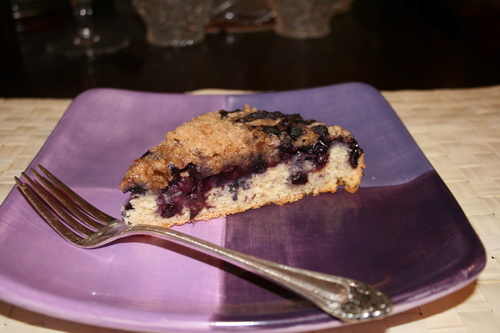 Blueberry Buckle
Base:
1 1/2 cups all-purpose flour
1/2 cup firmly packed light brown sugar
2 tsp baking powder
1/4 tsp salt
1/2 cup low-fat vanilla yogurt
1/4 cup egg substitute
1/4 cup vegetable oil
2 cups fresh or frozen blueberries (I find the smaller, wild blueberries have more flavour)
Topping:
1/2 cup all-purpose flour
1/2 cup firmly packed light brown sugar
3/4 tsp ground cinnamon
1/4 tsp ground nutmeg
2 tbsp chilled butter, diced
Preheat oven to 375F. Spray 9″ springform pan with non-stick cooking spray. Set aside.
In a small bowl, prepare the topping by combining all ingredients and using a fork or pastry blender, cut in butter until coarse crumbs form (it should look like wet sand). Set aside.
In a medium bowl, combine flour, brown sugar, baking powder and salt. In another bowl. combine yogurt, egg substitute and oil. Mix to combine, then stir the wet mixture into the flour bowl until just moistened. Spread batter into springform pan, smoothing the top. Sprinkle blueberries over, and then sprinkle topping over blueberries.
Bake for 50-55 minutes, or until a toothpick inserted in the center comes out clean. Please on wire rack and cool for 15-20 minutes. Remove springform collar and slice into 8 pieces. Serve warm.
Serves 8.