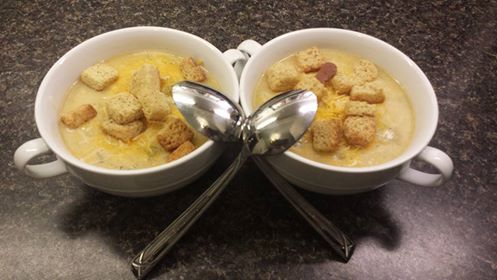 2 sticks unsalted butter
2 medium onions, finely diced
2 teaspoons garlic powder
1 teaspoon fresh ground pepper
2 pounds broccoli florets
2 quarts reduced fat, low sodium/organic chicken broth (can be made with vegetable stock as well)
1/2 cup all purpose flour
1 1/2 cups 2% milk
8 ounces shredded reduced fat mild cheddar cheese
8 ounces shredded reduced fat sharp cheddar cheese
Place large soup pot over medium heat. Add butter and stir until melted. Add onions and cook about five minutes until tender but not browned. Add garlic powder and fresh ground pepper and cook one more minute. Add stock and broccoli and bring to boil. Reduce heat to simmer and cook 15 minutes.
In a medium bowl, mix flour and milk well; whisk in to soup. Return to simmer and cook and additional five minutes (this helps cook out the flour taste). Slowly add cheese, whisking to combine and heat through.
Serve with croûtons. Serves 12.